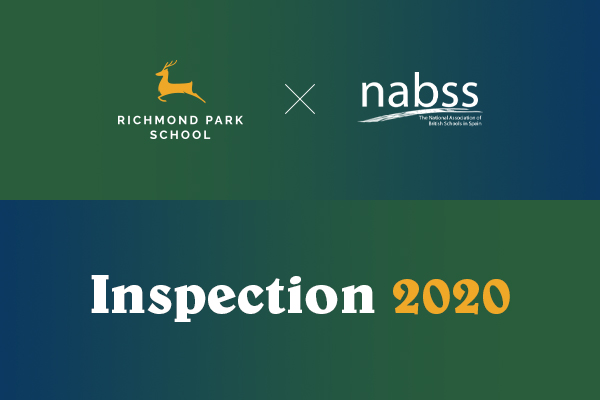 Dear Parents,
On the 27 November 2020, Richmond Park School was inspected by the National Association of British Schools in Spain (NABSS). The final report was received recently and has been carefully analysed by the senior leadership team. As leaders, we believe it is vital that parents understand the purpose of the inspection and are informed of its main findings and recommendations.
Purpose of Inspection
The essential purpose of the inspection is to judge whether a school can be recommended to the Spanish regional educational authorities for authorisation as a British school in Spain. The system is overseen by the British Council, who make use of the NABSS inspection service.
The inspection comprises a scrutiny of wide-ranging documentation, including major school policies, procedures and protocols, school data, pupils' work, discussions with leaders, managers, teachers and pupils, and class observations. This process provides the inspectors with a large range of evidence on which to base their judgments.
Main Findings
The school's facilities are ` very attractive' and of good quality, classrooms are spacious and well resourced. There is a ` wide range' of specialist teaching spaces, including ` excellent' sports facilities, and other impressive areas such as the dining rooms and staff rooms.
The school ` provides a safe environment for all students and staff'. The grounds are secure, all key health and safety policies and procedures are in place and pupils confirm the school's practice follows the agreed guidelines. The school is also adhering rigorously to the new protocols for the COVID 19 pandemic.
The curriculum is ` clearly based on the Early Years Foundation Stage and the National Curriculum' and is ` broad and balanced'. Further extension is provided especially by the sustainability project and our emphasis on thinking skills. Teachers' planning at all levels is ` detailed' and ensures full curriculum coverage and a consistent, structured approach to learning. Pupils' personal development is ` well provided for'.
Richmond Park School ` successfully prioritises 'the employment of experienced and well qualified staff and encourages them to participate in school development. Staff work well together and have a strong commitment to the school community. There is a ` positively consistent approach to teaching and learning'. There is a very good staff-to-pupil ratio and very effective learning support provided by assistants and co- teachers. The school is dealing ` very effectively' with the extra demands imposed by COVID 19 in terms of both staffing and resources. Teachers are offered ` a good range and level of professional development', for example in the use of new technologies and online learning.
The standard of teaching is at least `good' and sometimes `outstanding'. The best practice is characterised by a variety of approach, skilful questioning, good pace and challenge. All staff have a ` good level' of subject knowledge. Teachers and assistants help pupils to be `self-reflective' and confident. In response, pupils are fully engaged and motivated; they also understand how they can improve. Staff insist on the use of English and help pupils use the language correctly. There is a ` consistently positive relationship between pupils and teachers' and a ` very good level' of behaviour. Specifically in Early Years, there is an appropriate range of resources and activities, but teachers could give greater emphasis to outdoor learning and activities based on the children's own initiatives.
Assessment is extensive, thorough and ` very effective', identifying the next steps in pupils' learning. The level of achievement is `good' and teachers are aware of individual pupils' needs. Those who have learning  difficulties are offered specific support.
In relation to pupils' spiritual,moral, social and cultural development, there is a ` calm and purposeful atmosphere within the school' and pupils believe they are cared for and listened to. They matter and they have a voice.
The school leaders ` have a very clear vision' of the school's aims and ethos. They work closely with section leaders and managers to ensure this vision becomes reality and encourage all staff to be involved in the process of school development.
Inspectors' Recommendations and School Response
to develop outdoor learning and more child- initiated activities. The school has taken immediate action to improve the children's outdoor learning. Specific areas have been defined for Early Years play and learning activities, a hut has been constructed, and boxes of toys are now available outside.
to continue our emphasis on teaching and learning, achieving even greater consistency of practice. This objective forms an integral part of our school development. Our professional training programme and our self- review activities will continue to focus on high quality teaching and equality of opportunity for all pupils.
Inspectors' Recommendation to the British Council
The school has been recommended for authorisation from Pre-Nursery to Year 6 for four years (standard period between inspections) and from Year 7 to Year 9 for two years (standard practice to coincide with our move into key stage 4-Years 10 and 11). This report will lead to the issue of a certificate signed by the Director of the British Council recommending authorisation by the Spanish regional department of education.
Conclusion
The senior leadership team is very pleased with the findings and official outcome of this report. In a short time, the school has already achieved high standards and created its own specific identity and culture. This initial achievement is due to our pupils' enthusiasm for learning, our staff's skills and commitment, and our parents' strong support. We wish to thank everyone for their contributions, direct or indirect, to this successful inspection.
Board of Directors