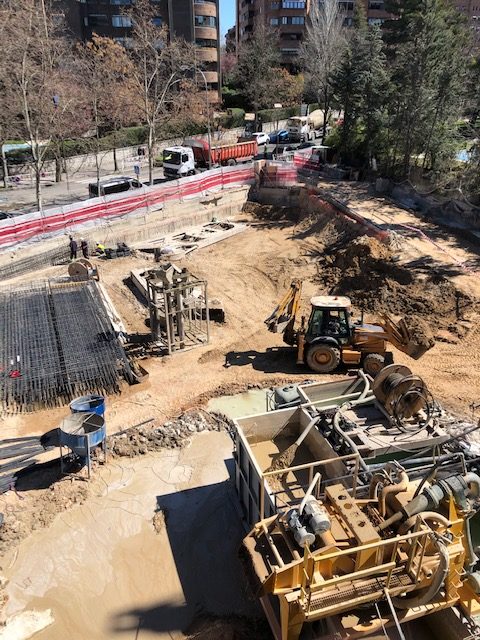 Dear Parents,
The senior leadership team believes this is an appropriate time to inform you of key new developments and preparation for the next academic year. While we still have significant time left in our current year, it is crucial that we plan in good time and keep parents well informed.
As most of you are already aware, the construction of the second phase of Richmond Park School´s facilities has begun according to the original plans and schedule. Initial progress has been very good.
One of the key characteristics of our project is the particular design of the school's learning spaces, which has been led by educationalists. The architectural team has given shape and form to the concepts created by the educational leaders. Key factors have been taken into account, for example the importance of light, the width of corridors, the forms of access and, of course, health and safety for the different age groups. In this way, we have ensured the facilities are functional but also modern and extremely attractive. Given the construction has also followed the latest regulations from 2020, everyone can be assured that the building complies with all the relevant measures relating to safety and sustainability.
Phase ll will be for the exclusive use of secondary. As with the present facilities, this phase will fulfil the specific needs of students, including large classrooms, smaller seminar rooms for optional subjects, laboratories, informational technology rooms, other specialist spaces and some common areas. The following stage will focus on providing appropriate furniture for these different learning spaces and ordering the educational resources, so we maintain the standards and style already established.
We are also pleased to confirm that we have appointed all the new staff required for next year and are very confident they will help us to consolidate the outstanding work done by our teachers this year. Staff recruitment is a vital aspect of our work. We plan carefully and appoint teachers who will contribute to curriculum development and the preparation of future external examinations. Not only do we seek teachers with relevant professional experience, we also take into account their wider interests and hobbies. Our staff enhance the broader aspects of school life by sharing their passions, thus enriching the variety and quality of our pupils' experiences beyond the core academic curriculum.

At this time of year we also review the curriculum in order to prepare effectively for the next academic year. Specifically, the senior team is seeking to increase the scope and impact of our two major co-curricular projects: sustainability, and communication and thinking skills. While maintaining our balanced approach to the sustainable development goals, there will be a strong emphasis on key scientific, ecological and technical aspects through both particular subjects and integrated studies. Our other co-curricular initiative will look at ways of developing pupils´ creative and critical thinking throughout the curriculum and of increasing opportunities for them to communicate and to present their work in different ways and media, including new technologies. Next year will also be a vital time in the preparation of the two-year examinations programme (Years 10 and 11). In Year 9 students have to choose their optional subjects for study towards the IGCSE examinations. We shall organise presentations for parents about the general structure and organisation of the external examination system and the curriculum we shall be providing, including both core and optional subjects. We shall also give our students detailed advice and guidance to ensure they make informed and appropriate choices.
We hope this newsletter clearly identifies our main priorities at this time of year and helps you share our confidence that our school will continue to develop and improve.
Board of Directors