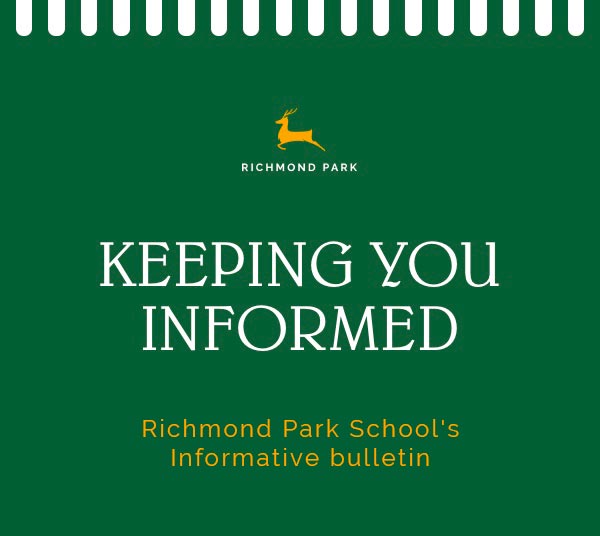 REFLECTIONS
Our Director of Education, Jim Shallcross, shares some of his thoughts on education:

LATEST NEWS
Summer School 2021/22 enrollment
We are delighted to inform you that the enrollment for RPS Summer School 2022 is already at over 60% capacity. If you are interested in having a place guaranteed, please fill in the inscription form which you can find on: https://richmondpark.school/summerschool/  or contact the school by email:  info@richmondpark.school
Chess
One of our students, Unai (5 years old) won the 5 to 8 years category of the Chess online tournament in which Richmond Park School participated in March, together with more than 100 pupils. Very well done!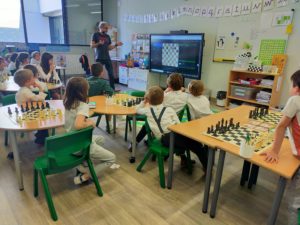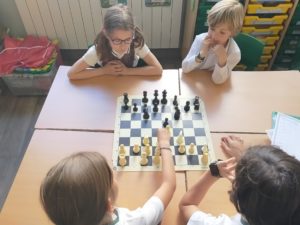 Mathematics Competition at Universidad Complutense
On Saturday 23 April, four Richmond Park students accompanied by Mr. Bird and Mr. Connolly took part in the `Concurso de Primavera de Matemáticas´ organised by the Asociación Matemática and the Facultad de Matemáticas de la UCM. More than 2,000 students from 444 schools participated. Two of our students from year 6, one from year 8 and one from year 9 took part.
It was very exciting to see so many mathematics enthusiasts gathering together for the first time since the pandemic began in March 2020.
The competition was very well organised at all levels, and we hope to take part in future events. One of the students attending , A. M., wrote: "This competition has been a great opportunity for me and all my classmates who attempted it. When I first found out I got chosen to go, it made me so happy, it completely made my day. As the time got closer to the big day, I practiced with some exams from previous years, to be honest I wasn't nervous at all. The test went extremely well, there were 25 questions, and I was able to complete most of them. In my opinion, I would have needed around half an hour more to give it my best. I was not expecting to win, as I knew there were hundreds of people, all of them with a very high level in mathematics. When I got out, I felt very well and had a great time. It has been an unforgettable experience. "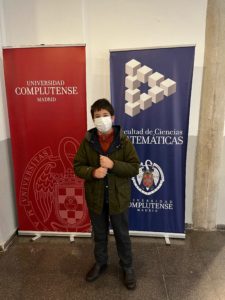 Year 5 football match vs. King's College
Year 5 competed in football matches against King's College on Monday 28 March. Students competed to a really good level. The boys and girls worked very hard throughout the morning; however, as the pitches were very small, the students found adapting to them very difficult. The students never gave up even though they had really challenging games. Both teams lost their game but learned so much from the experience.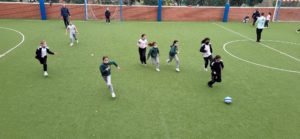 Year 9 football match vs. King's College
Year 9 boys and girls were invited to play King's College on 31 March. The students were ready for the challenge ahead. It was going to be a very difficult task, with a small group and against two boys and two girls team the task was very high. The students started very strongly, establishing early leads. The girls never looked back and finished their game, winning 10-5. The boys found it harder and unfortunately finished their game with a 3-3 draw. All of the students worked so hard against strong opposition. A wonderful effort from all students involved.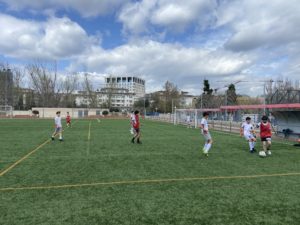 Year 5 tag-rugby match vs. Holy Mary
Year 5J travelled to play tag-rugby against Holy Mary on Wednesday 6 April. The students had practiced prior to their matches, which showed the way they started. Both sets of students played some excellent tag-rugby. The matches became more difficult, but the students kept working all the way through their games. The girls finished as winners and the boys lost by one try.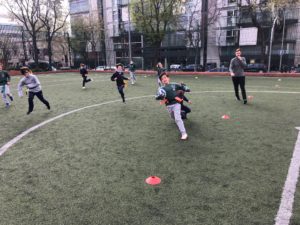 Years 5/6 girls football match vs. King's College
A group of Year 5/6 girls represented the school in a girls-only football match against Kings Soto on 21 April. We made the journey to Kings knowing we were in for a competitive challenge. We arrived; the girls warmed up, were put into teams and prepared to start. The girls began well, both teams won their first game. The second match finished in a win and a draw. Finally, we had to play against each other to decide the winners, as Richmond Park finished the day first and second. It was a hugely successful and impressive display from the girls. The teamwork, attacking and defending were of a high level against a top school. The girls played brilliantly and showed their progress after all their hard work.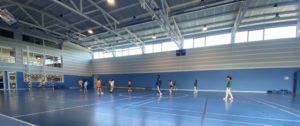 Year 9 volleyball match vs. St. George's School
Year 9 travelled to St George's School on Thursday 21 April to play in a volleyball match. The Year 9's were to play a selected group of students from St George, and we knew the level was going to be very high. The Year 9 students have been working hard on their volleyball skills over the last few weeks after not having practiced until just a few weeks before. The students deserve great credit as they have spent so much time in lessons and in co-curricular sessions working hard to develop their game. The boys began their games with confidence and a real desire to compete, which, along with their ability, resulted in them winning both of their games. It was a huge success to win both games and a real show of teamwork. The girls started their first match really slowly, falling to a defeat in the first match against their 'B' team. A group reflection followed and improvement was needed, although this did not happen at the start. The girls trailed for most of the match; however, with a few minutes to go, they were able to claw back the difference and finish the final match, winning by one point. It was an incredible come back in a very enjoyable game. Both sets of students from both schools were excellent, and it was a really enjoyable afternoon of sport.
Richmond Park School's Houses score chart

WEB SECTION «SHOP»
Richmond Park School's merchandising
Please remember our SHOP section, where you can find caps and T-shirts for this summer, as well as bags to carry things to the beach or mountain…